The Camera Roll is a unique view that only you can see. It automatically finds and shows you every photo and video (private and public) you've ever uploaded to your account.
Access the Camera Roll
On a web browser: Hover over You | click Camera Roll.
On the Flickr app: Tap on the Profile icon | tap on Camera Roll.
Sort your photos and videos
By clicking on a year/ month on your timeline located on the left-hand side. This allows you to jump to a certain date range.

Or, sort by 'Date Taken' or 'Date Uploaded' using the toggle at the top of the screen.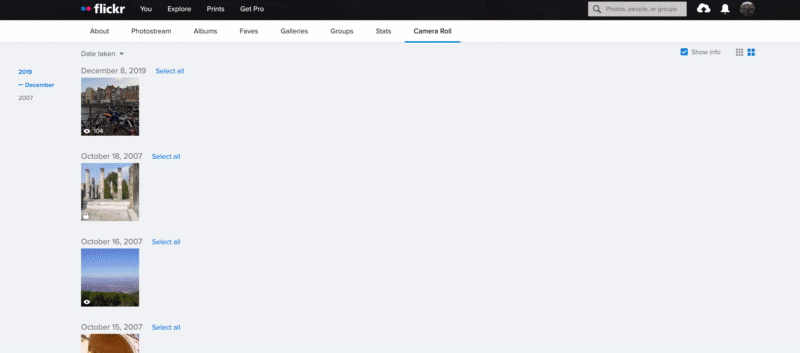 Manage or share your photos and videos
Click one or more items to add them to the editing tray at the bottom of your screen, where you can action the following:
Privacy

- Change who can see the items. (If an item is set to private, you will see a little padlock icon in the bottom left.)

Edit info

- Change the title, description, dates, tags, and other info.

Share

- Share them with others.

Add to album

- Group them together any way you like.

Download -

Save them to your device.

Delete

- Remove photos or videos from Flickr.

This cannot be undone.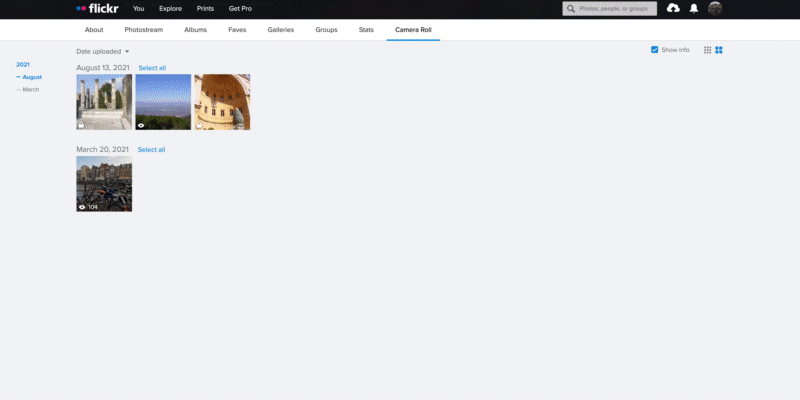 When you're done editing, you can click the item again to remove it from the editing tray, or click Clear selection to remove all of the items to prevent unwanted edits.
FAQs
Why is everything unorganized?
Digital photos and videos include a timestamp for the date they were taken. Flickr uses this date to organize things within the Camera Roll. If the dates are missing, then the item will show up at the top of Camera Roll.
Scanned photos - Will not have this timestamp.
Edited photos - Some apps will delete the timestamp when they save photos.
To fix this, you'll need to add the date to each item manually:
Click one or more items to select them.
Click Edit at the bottom of the editing tray.
Add or edit the "Date Taken."
Click Save.
Click Clear selection in the bottom of the editing tray.
How did my stuff get added to Camera Roll?
The Camera Roll is just a view that lets you look at anything you previously or will add to Flickr. Nothing has been moved, copied, or delete. No one else can see your Camera Roll view.
Does that mean that if I delete an item from my Camera Roll it will be deleted from my account entirely?
Yes. Deleted items aren't recoverable.