Safety levels let other members know that your content might contain nudity, sexuality, or graphic imagery that some have chosen not to see.
Moderate your content according to the Flickr Community Guidelines to help users filter out images they might want to avoid.
Understanding Safety Levels
The following is a general guide to Safety Levels:
Safe

- Acceptable to a global, public audience.

Think of what would be appropriate for public viewing in any setting.

Moderate

- Partial nudity, like bare breasts and bottoms. This would include areolas, nipples, thongs, nipple covers/pasties, or see through topless nudity.
Restricted

- Full-frontal nudity and sexual acts. This would include genitalia, pubic hair, full-frontal nudity, imagery depicting/insinuating sexual activity, gore, graphic violence, and adult themes (Photos only

– videos cannot contain restricted content and are deleted if reported.)
Please note, that censored images using pixelation, blurring, shapes, etc. would still be considered unsafe content and needs to be moderated appropriately.
Note

:

Effective May 1, 2022, Free accounts will be limited to posting Safe content only. Members interested in uploading Moderate or Restricted content will need to

upgrade to Pro.
Accounts are categorized using the same safety levels. The account safety level can only be changed by Flickr staff.
Safe - All items have been correctly categorized (default setting).
Moderate - One or more moderate item is incorrectly categorized as safe.
Restricted - One or more restricted item is mis-categorized as safe or moderate.
If you have received a warning that content on your account was improperly moderated, please use the steps below as a guide to restore your account to its previous status.
Update safety levels for photos and videos
Hover over

You

| select

Organize

.

Drag & drop the images you'd like to update the safety filter for.

Click

Permissions

| select

Set safety filter

.

Select a safety level | click Change Safety Filters

.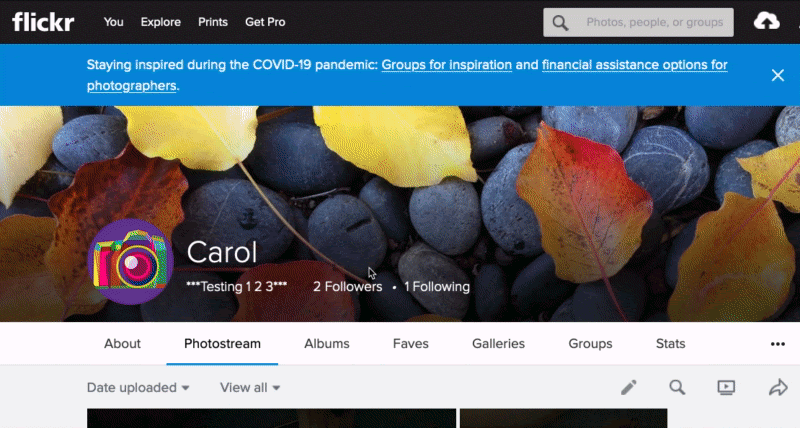 Note: To locate content on your account based on the safety level, please see How to locate non-public and/or moderate or restricted content on your Flickr account.
Restore your account safety levels to "Safe"
If your account has been reviewed as "moderate" or "restricted," you can correct the misflagged images and request its safety level to be restored to the "Safe" level.