Use the tips below to fix common mobile login problems related to your device and password.
"Network Error" or "There Was a Problem Signing You Into..." Error Messages
You may be trying to log in with the wrong email address.
The account you're trying to log in to has been deleted.
The confirmation process was not completed when creating the account.
Still having trouble?


Do you get redirected to the login page when you are trying to reset your password? Try resetting your password on a desktop or a device that doesn't have the Flickr app on it.

OR

Copy and paste the reset password link into your mobile browser, instead of tapping the link.
Open the Flickr app & tap Get Started
Enter the email address associated with the Flickr account, then tap Next
Tap Forgot Password. A new reset email will be sent to your inbox.
Open the email, then press and hold your finger over the Reset your password link
Tap Copy
Open your mobile device's browser and tap the Address Bar at the top. Tap Paste, then tap Go.
The page to reset your password should now appear in your browser instead.
If you're still experiencing issues updating the password after trying the steps above, please delete the Flickr app entirely from your phone, then open the password reset email and tap the link.



Password Troubleshooting


Check your password for these issues:


Logging in on older iOS devices or older Flickr App version


Make sure you are on our latest iOS App version.
If you are using an iOS device with an older App version, you will be prompted to log in to the iOS app by inputting a code on a different device (screenshots below).
Go to the Flickr site on a separate browser or device
Login under the same account you want to login to the app with
Once you are logged in to the web browser, then you can go to http://flickr.com/logincode and enter the code you see on the screen to log in.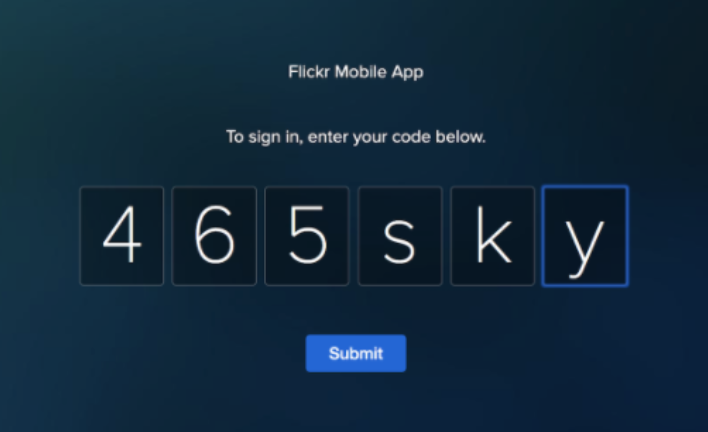 Didn't find an answer to your question here? Please contact our support team and we'll be happy to help.