What are stats & where can I find them?
Stats are a feature available to our Pro members that provides detailed analysis of your Flickr content.


While the best place to view your stats is going to be on the page dedicated to them, partial aspects of your stats (including views) can also be found in the following account locations:
Stats Page.

The stats page is the dashboard for all things stats. From this page, members can analyze trends over time, identify which content of theirs attracts the most engagement, and even see the source of this engagement.






Activity Feed Card. This card displays the overall activity from today. From this card, you can select to see your daily views, comments, or faves— along with a line graph depicting trends as they relate to the rest of the week. Clicking on this card will redirect you to your official Stats page.




About Page. All members (free or Pro) see their total views on the about page. Clicking on the number of views will redirect Pro members to the stats page.

Stats vs. Views
Everyone gets view counts, but only Pro's get access to their stats.
What constitutes a view?
The various sources of viewing (web, api, mobile, etc) send our system a signal when they have determined that a photo has been viewed.
At their most basic level, a "view" is added to your stats any time that particular image appears on someone's screen. These views can come in the form of your image appearing as a thumbnail in someone's feed, in a search result, or directly from visiting the photo page, etc.


Processing Times
This data is processed in batches, every few minutes. This is why you might temporarily see a different number reflecting on the photo page as opposed to the stats page. With a bit of time, it will automatically be brought back into sync.
Stats Page
The stats page is made up of the following sections:
Overview

Recent Views

Source Breakdown

Content Breakdown
OVERVIEW
The overview section of this page provides members with a comprehensive look at their overall viewing activity. The different categories indicate where the view itself originated, while total views is an overall count.
Photos + Photostream + Albums + Collections + Galleries = Total number of views

RECENT VIEWS
This is where Pro members can find a line graph displaying view trends over the last 30 days.

When visiting your recent views from your Stats page, by default it will show "Today".
A date can be selected from the calendar dropdown. You can select from the calendar dropdown to show a detailed view from a date within the past 30 days.
From the Recent View section, you can also toggle between the icons to see views, faves, and comments for the date selected.

Below, you can also see a detailed breakdown of both your overall views & your daily views.
For your daily views, when a date is selected, you can see which items contributed most to the days stats— including top viewed, faved, and commented items.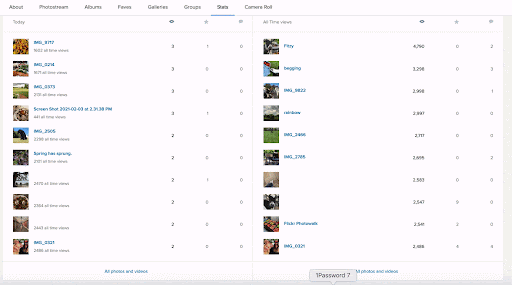 At the bottom of this section, you have the option to view "All photos and videos" to expand the activity for the day to include all photos.
SOURCE BREAKDOWN
The source breakdown does just that— breaks down the various source origins from which your content was viewed. Each category below can be broken down further into sub categories.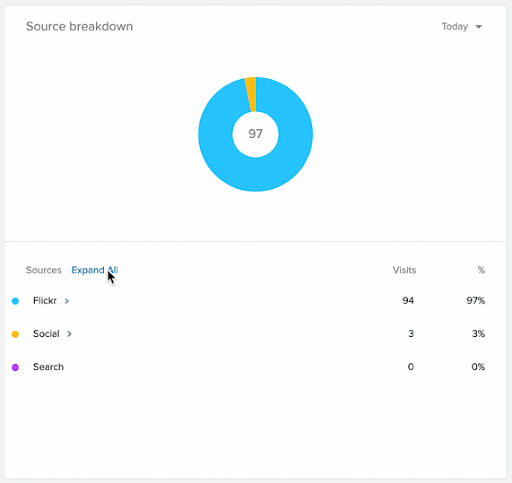 This breakdown includes both the number of visits attributed to each "source" as well as the percentage of overall views.
CONTENT BREAKDOWN
This is where you can find a count of how many of your content items fall into each of the categories listed.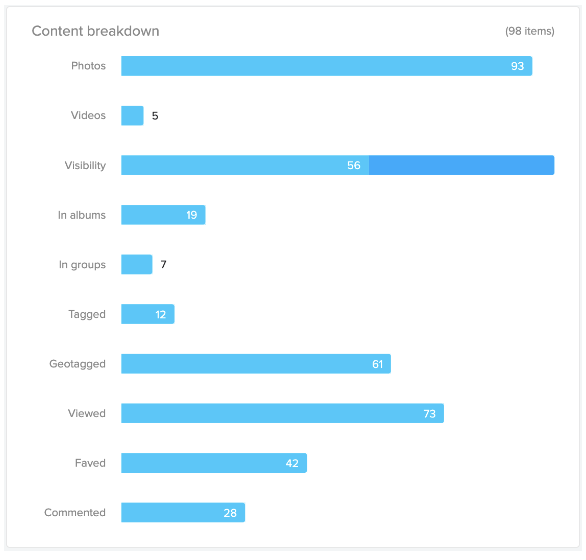 Keep in mind, activity in "Content Breakdown" does not reflect in real time & is updated roughly once per day.
Pro Tip! If you click the "Tagged" section (under content breakdown), it'll bring you to the Organizr with all your untagged items pre-populated for easy tagging. Same goes for "Geotagged".
Stats FAQ
Why am I seeing low view counts?
There are various factors contributing to lower than anticipated view counts. Below are a few considerations:
The activity of your followers.

Are your followers still active.

The tags you are using.

The time you are posting.

The amount of accounts your followers are following.

The amount of Groups the image is posted in.

Share a link to your photos on other social media platforms.


Why does my source breakdown include groups that I am not a member of?
The most likely explanation here is that their photo has been linked in a discussion thread within those groups.


Why do I see different view counts across my profile?
Views are not processed immediately. It takes a bit of time for this data to be processed. Some stats are only updated once per day.


Why am I seeing a spike in views on one of my photos?
Possible explanations: Explore page, groups/group discussions, other features (Ex: Flickr Editorial)


I'm a Pro member, why can't I see my stats?
If you have a secondary account, it's possible you're logged in there! If you're logged into the correct account, let us know so we can take a look.


I had views on a photo- but now I have 0.
It's possible that you recently changed the privacy of the photo to a stricter setting-- which will remove the accumulated faves.


If I use the Replace feature on an upload, will that reset my views to 0?
Nope! Only changing the privacy level will do that.