Tags are a good way for Flickr members to sort items into subject-specific groups. Having descriptive keyword tags on your photos & videos makes it easier to find them on a Flickr search.
How to add tags
One item at a time
Click any of your items to open it.

Below the photo/ video, click

Add tags

.

Enter a tag keyword, then press the

Enter key

.
Multiple items at once
Hover over

You

| click

Camera Roll

.

Select one or more items.

Click

Edit

.

In the "Add new tags" field, enter your keywords.

Click

Save

.
Multiple word tags, or phrases
If you are using Flickr on a web browser, you can separate tags with spaces or make tag phrases by enclosing them in quotation marks.
For example: sleeping cats will become two tags.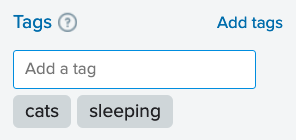 And, "sleeping cats" will appear as one tag.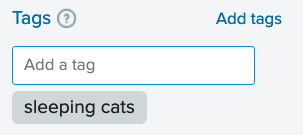 How to Remove tags
One item at a time
Open the item that's been tagged.

Scroll down to "Tags."

Hover over a tag | click

X

.
Delete a tag from all of your tagged items
Hover over

You

| click

About

.

Click the number above

Tags.

Click

Delete

beside the tag.

Click

Delete

, then click

OK

to confirm.
You can also edit your tags in bulk using the Organize tool.
Hover over

You

| click

Organize

.

Select items in the filmstrip and drag them into the editing window.

Click

Add Tags

at the top of your screen.

Add your tags | Click

Add Tags

.

Click

Thanks

.
Note: We respect your privacy settings. Other people can only find your tagged items if you've marked them public. You can also opt to hide your images from search results.
Change who can tag your items
Click your

Profile Photo

.

Click

Settings

.

Click the

Privacy & Permissions tab

.

Next to "

Who will be able to see, comment on, add notes, or add people"

click

Edit

.

Select a privacy level under

"Who can add notes, tags, and people."
Note: you will only be able to make these changes while you are logged in to your account using a web browser.