The Organizr is a convenient way to perform bulk edits to your photos on Flickr, such as adding tags, adding descriptions and titles, and creating albums.
Accessing the Organizr
Sign in to your Flickr account*
Click on You
Click on Organize
*Please note, that this tool works best on desktop. If you're using the Flickr app on a mobile device, we recommend using the Camera Roll tab.
Navigating the Organizr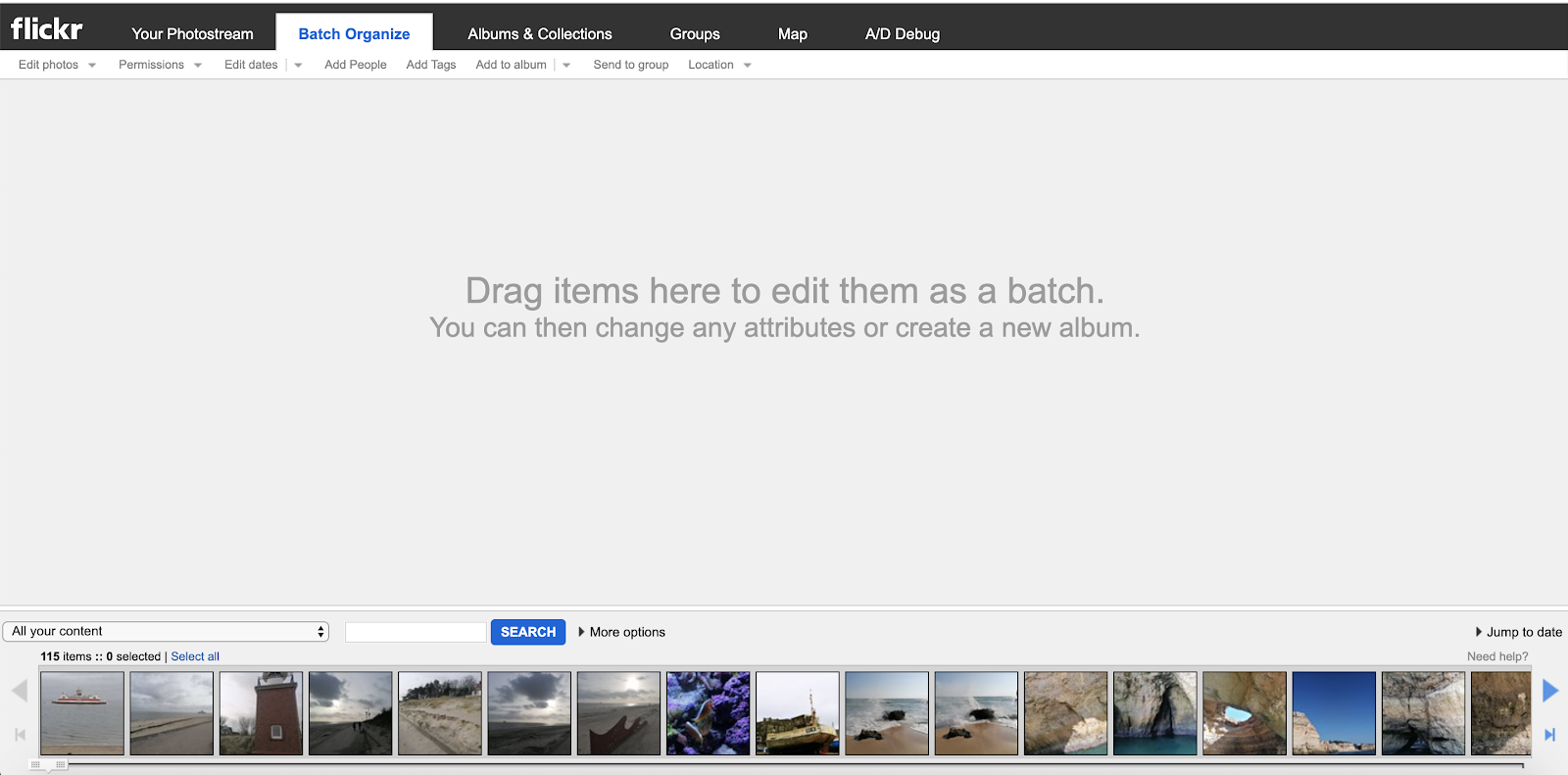 Change your privacy settings of your photos:
Drag and drop the images you want to privatize into the batch area
Select Permissions, then Who can see, comment, tag?
From here, you can select your preferred privacy settings, then click Change Permissions
These settings will apply to all images that were placed in the batch area
Similar to the steps above you can edit photos, edit dates, add people, add tags, add photos to an album or send photos to a group.
Filters
You have a number of filter options that you can find on the bottom of the Organizr. Next to All your content you can unfold a menu by clicking on the small arrows. Here you can filter your content by:
Your non-tagged content
Your content not in a set
Your geotagged content
Your non-geotagged content
Content uploaded by
Albums
Groups
Additionally, clicking on More Options next to the blue search button on the bottom of the page will give you the following filters:
Full text
Photos & videos
Tags only
Photos
People only
Videos
You can filter your content by privacy or safety filters in the No privacy/Safe search dropdown menu:
Only show public content
Only show content visible to friends
Only show content visible to family
Only show content visible to friends & family
Only show private content
Only show safe content
Only show moderate content
Only show restricted content
Filtering by date
In the lower right-hand corner you can also sort your photos by date:
Here's a screenshot where you can see all available filters at a glance: