In order to sign up for an account, you will need both an email address and a password of your choice. You will be able to create an account on either a web browser or on the Flickr app.
Once the account is created, a confirmation email will be sent to the email address used to sign up. From there, you will be prompted to log in for the first time.
If you're trying to sign up for an account and have gone through the troubleshooting steps below with no luck, please click here to go through our account recovery process.
How to Sign Up for a Flickr Account
Go to our sign up page.
Enter your information.
Click Sign Up.
Check your email for a Verification Link.
Click Confirm my Flickr account.
Sign in to your account.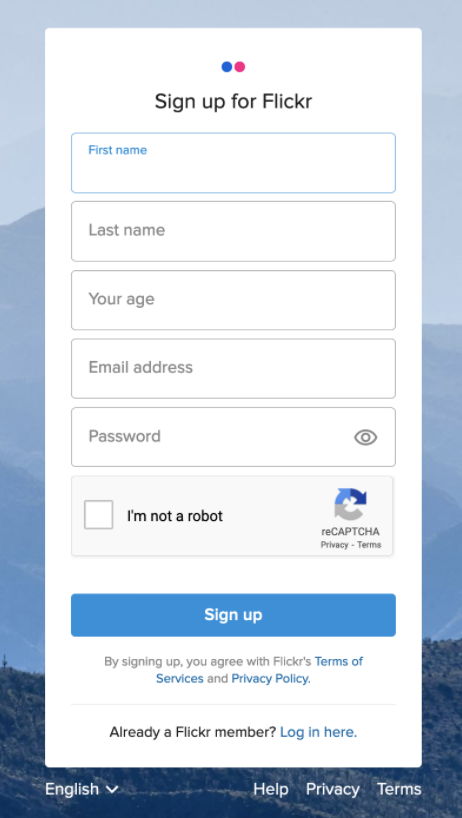 Not receiving a confirmation email
If you're not receiving a confirmation email, please check your spam and trash folders for an email from donotreply@flickr.com. Otherwise, add donotreply@flickr.com to your Contacts and request another email. If you're still not having any luck, you may need to get in touch with your email provider's support or use a different email address to sign up.
Confirmation email expired before 24 hour period
Confirmation email links expire after 24 hours. If you're getting an error that the link has expired before this time, try to manually copy/paste the link in the email into the address bar of your browser to ensure your email client isn't altering the URL.
"Oops, something went wrong"
If you get this error message trying to sign up, try the following troubleshooting steps:
Check that the password you're entering meets our requirements. All checkmarks under the password field must be blue in order to proceed.
The email you're using may already be tied to an existing Flickr account. Please try to sign up using a different email.
Still, having trouble? Contact us and list the troubleshooting steps you've taken so we can assist you further.
Once you have successfully created your new Flickr account, it's time to get started!
Account Recovery Process