Members who receive gifted Pro will have access to the following perks: Reasons to upgrade to Flickr Pro*
*Partner discounts are excluded from all gifted Pro.
Give the gift of Pro:
Find the profile of the member you'd like to gift a Pro membership.

If the member has a free account: Click "Give Pro" located on the cover photo.
If the member already has a Pro subscription: Click "Give Pro" located in the three dot menu located on the cover photo.

Select amount (one week, one month, one year).

Click "

Change

" to add a personalized message to the recipient (optional).

Fill in your billing details and click on Complete Purchase

.
Not seeing the option to gift Pro? Some accounts such as government, staff, and Flickr Commons accounts are not eligible to receive the gift of Pro.


Note: You can also gift Pro by selecting "Show your appreciation with the gift of Flickr Pro" on any photo page and following the steps above.

When you gift Pro:
You will receive an emailed receipt at the address provided on the order form, and the recipient will receive notice of the gift both through email and in their account settings.

The gift itself will be a one time, non-recurring charge for the Pro membership duration selected at checkout.

When gifting Pro to a member who has an existing gift or current subscription, your gift will extend the duration of that membership/subscription.
Note: The email and the notice in the Account Settings will also contain your name along with an optional message. (If this field is left blank, the gift will be given anonymously.)
Receive the gift of Pro
When another member has gifted your account with a Pro membership, you will receive an email notification & will see a notice the next time you log in to your account.
Accept, Decline, or Mute the gift
Accept. T

he Pro membership will be added to your account or extend an existing membership.

Decline. T

he Pro membership will be removed from your account and you will no longer be able to accept or decline the gift in the future.

Mute. You will have the option to accept or decline the gift at a later time in your Account Settings.
Note: In order to protect the recipient's privacy and safety, the gift purchaser will not be notified of whether the gift was accepted, rejected or muted by the recipient. As such, all gift purchases are non-refundable.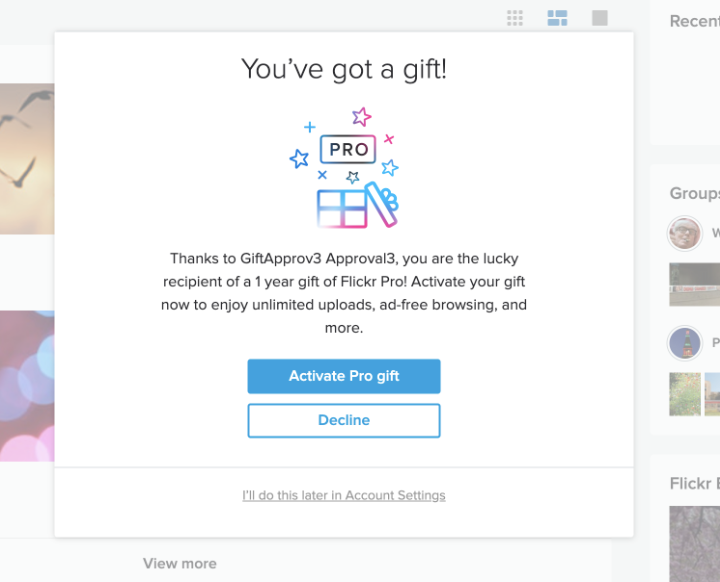 Membership Status
Your gifted Pro memberships will show up in your Account Settings in the order they were given. Regardless of the gift duration (week, month or annual), you will have a year to accept or decline it before it expires. Gifted Pro memberships will not automatically renew.


Gift History
Check the Gift History section in your Account Settings to see which gifts you have given or received.