It's always a good idea to update your password regularly, and to make sure it's unique from other passwords you use. If you've forgotten your password, you can reset it for a fresh start.
Note: you should never share your password with anyone, including Flickr Support.
Change your password on a web browser
Click on your profile picture and choose Settings from the drop-down menu.
Go to the Personal Information tab.
On the right-hand side under Account you can change your password.
Click Edit your password.
Enter your old password, and the new one.

Make sure the new password has 12+ characters and no leading spaces.
Click on Change your Flickr password

.
Reset a forgotten password
1. Go to the sign in page.
2. Enter the primary email address of your Flickr account.
3. Click Next.
4. Select Forgot password? under the Sign in button.
5. Press Send email.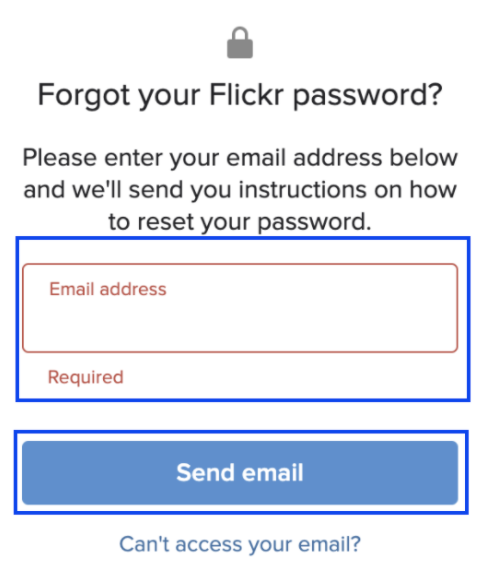 Change your password on the Flickr app
Once signed out, tap

Get Started.

Enter your Flickr login email address.

Tap

Forgot Password?
Tap Send Email

for a password reset email.
Note: If you can't remember your email address, please contact us. If you're not writing in from the login email on the account, we will need to verify ownership of the account as part of this process.