This article goes over common issues members can face logging in to Flickr, and how to troubleshoot them.
I don't remember my login information. How can I find it?
If you're not sure what your login information is, or cannot access your login email address, please click here to go through our account recovery process.
Log in with an email address, not a username
Our new login system requires an email address & password for account access. (Previously, there was an option to log in using a username rather than an email address.)
Once migrated, if you enter anything other than a full email address, you'll receive the following error message: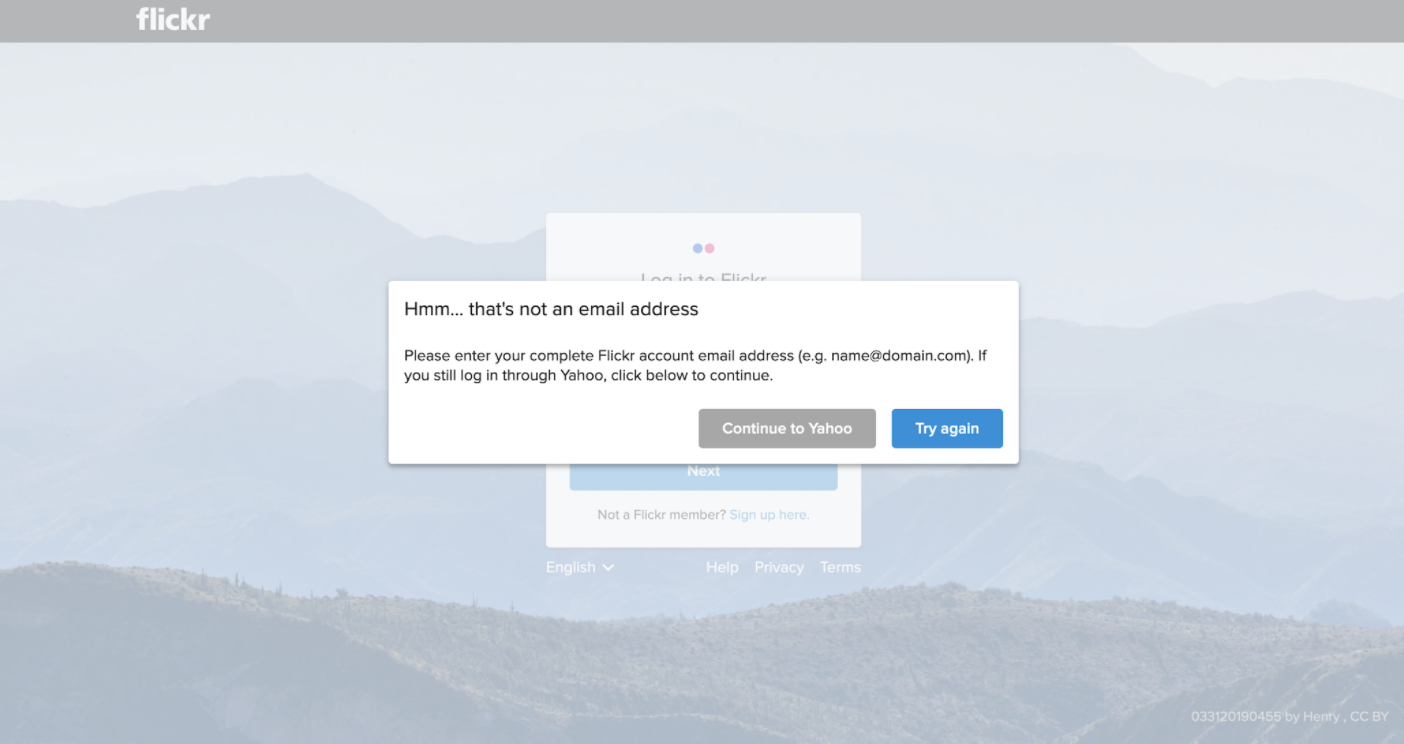 The email address you select during the migration process will serve as both the login and contact email.

After entering your login email address & clicking Next, you will be able to enter your password.

Don't remember your password? You can request a password reset email via the Forgot Password link on that screen. The email you receive will contain instructions on how to reset your password.
Password Reset Email Expired
If you click the link in the password reset email and you're directed to the following screen, this is an indication that the link has expired. Click Resend email to have a new password reset email sent.
Please note that password reset links are only valid for 24 hours.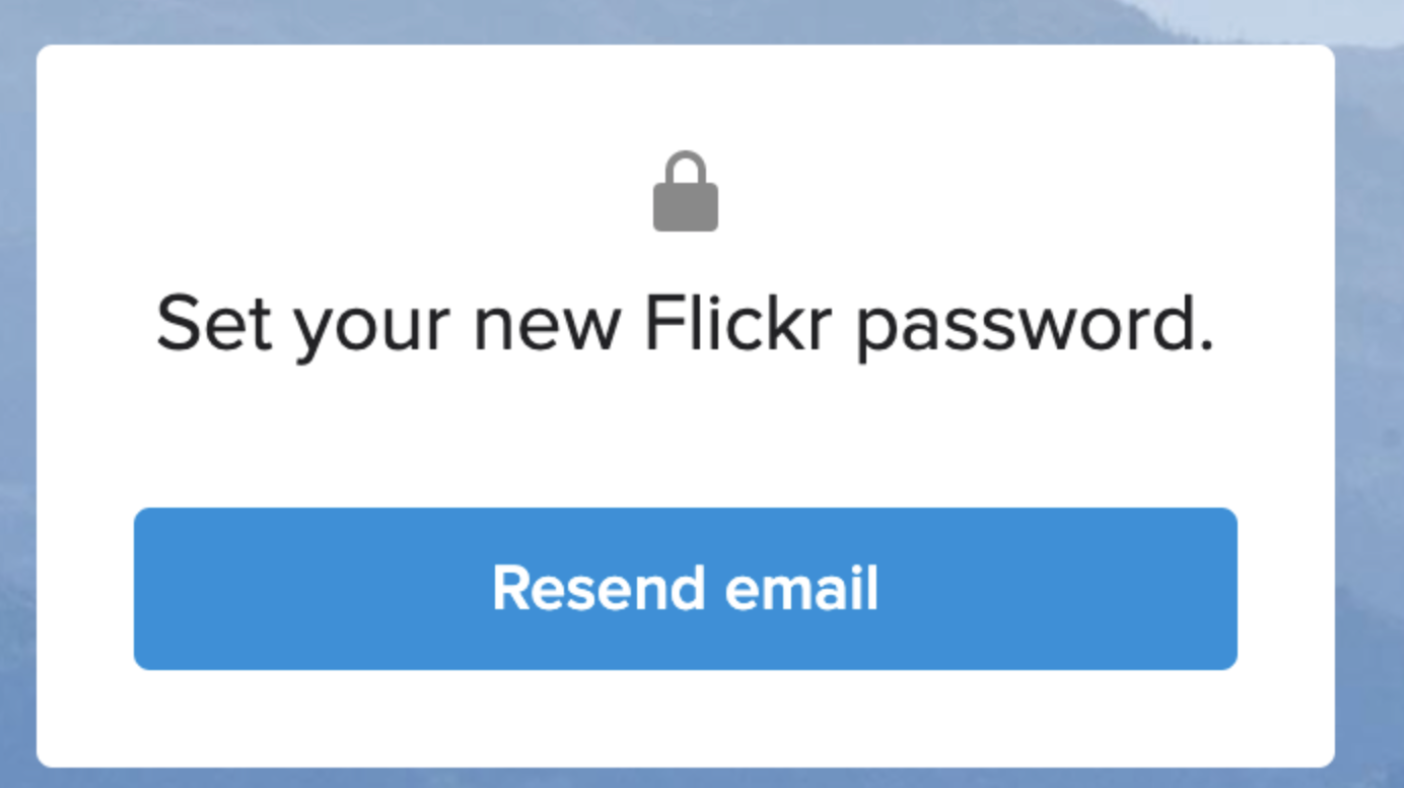 Not Receiving Password Reset Email
If you aren't receiving the temporary password reset message, we recommend adding donotreply@flickr.com to your email contacts. This might allow the reset messages to be filtered into your inbox. If you need help adding a contact, please reach out to your email provider for assistance.
Once you have added donotreply@flickr.com to your email contacts, you can try sending yourself a new temporary password with the following steps:


Visit the Flickr login page here: https://www.flickr.com/signin
Enter in your email and click Next.
Choose Forgot password?
Choose Send email.
If you continue to not receive an email from us with a temporary password, we recommend that we switch your login email to be a different address. You will need to contact us for more help with this.
Receiving other error messages? Please check out the following article for troubleshooting steps here.
Being asked to enter a verification code?
Sometimes, you will be asked to enter a verification code to login to your Flickr account, which can include logins from different devices or locations.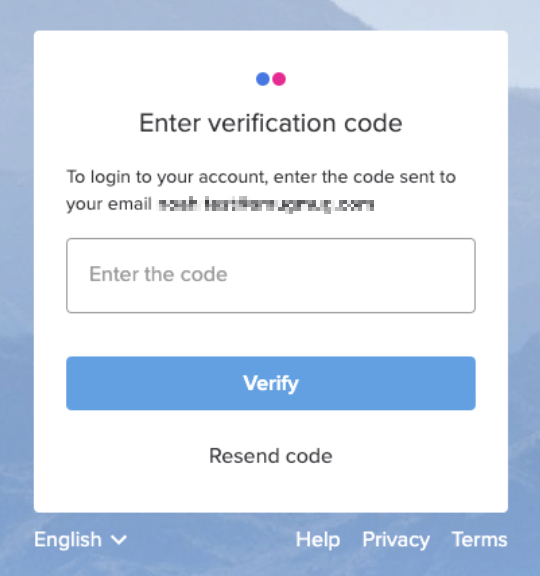 This verification code is sent to your account email from donotreply@flickr.com.
After receiving your code, you can then copy and paste or type the code into the text box. If you experience problems with receiving your code, please contact support.
Can't stay logged in to your account?
If you are automatically logged out of your Flickr account when you close your browser, please check to ensure that cookies are enabled. This will store the necessary information to allow you to remain logged in to your account.
Flickr Account Recovery Process