Flickr is all about inspiration & positive interactions. If another member is interfering with that experience for you, you can block them.
Once blocked, the member will not be able to follow you, interact with your photos or videos, or send you FlickrMail. Any comments or faves on your content from them will be deleted, and your content will be removed from their galleries.
Note: While the block itself will occur immediately, removal of comments and faves can take up to several hours (though hopefully not that long!).
If you're using Flickr on a web browser:
Block a member from their profile
From the members profile | click the 3-dot menu located on the cover photo.
Click Block [member's name].
Click Block again to confirm.

Block a member through your notifications
Click on the

Bell icon

to open notifications.

Select the

'…'

more options icon to the right of the notification.

Click on

Block [member's name

].

Click Block

again to confirm.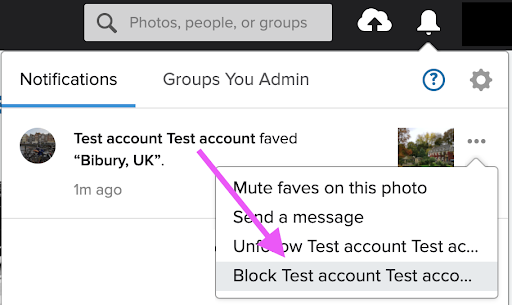 Locate your Blocked List and/ or

Unblock a member

Hover over

You

| click

People

.

Click

List

.

Scroll to the bottom | click

Your Block List

.

If you then want to unblock a member, u

nder the name you want to unblock, click Remove block?

Tick the checkbox next to

Please confirm that you want to remove your block on ___

.

Click

Remove Block

.

Click OK

.
If you're using the Flickr app on a mobile device:
From the member's profile | tap in their

Profile Photo

.

Tap Block [member's name

].