Flickr has always been committed to protecting your privacy and by partnering with TrustArc, we can ensure that we stay up to date to continue making your privacy our priority.
Depending on where you live, you'll see a different banner and options for selecting your cookie preferences. Please read on for details about the different options that you'll have for accepting or declining cookies.
Informational banner
Most Flickr members will see an informational banner. You can click the link to view our cookie policy if you'd like to read more, or dismiss the banner altogether.

Flickr members in the UK, EU and Brazil
Due to regulations in the UK, EU and Brazil, Flickr members based in these countries must manage their cookie preferences before they can continue to use Flickr. If this applies to you, you will see a large popup on the screen, illustrated below, prompting you to manage your cookie preferences. This popup will appear again if you ever clear your cookies.
You will see cookies organized by the following categories:
Required Cookies - These cookies are required to enable core site functionality. You cannot decline these, so you will see "Active" instead.
Functional Cookies - These cookies allow us to analyze site usage so we can measure and improve performance.
Advertising Cookies - These cookies are used by advertising companies to serve ads that are relevant to your interests.
You can choose to allow all cookies, reject all cookies, or make selections for each category.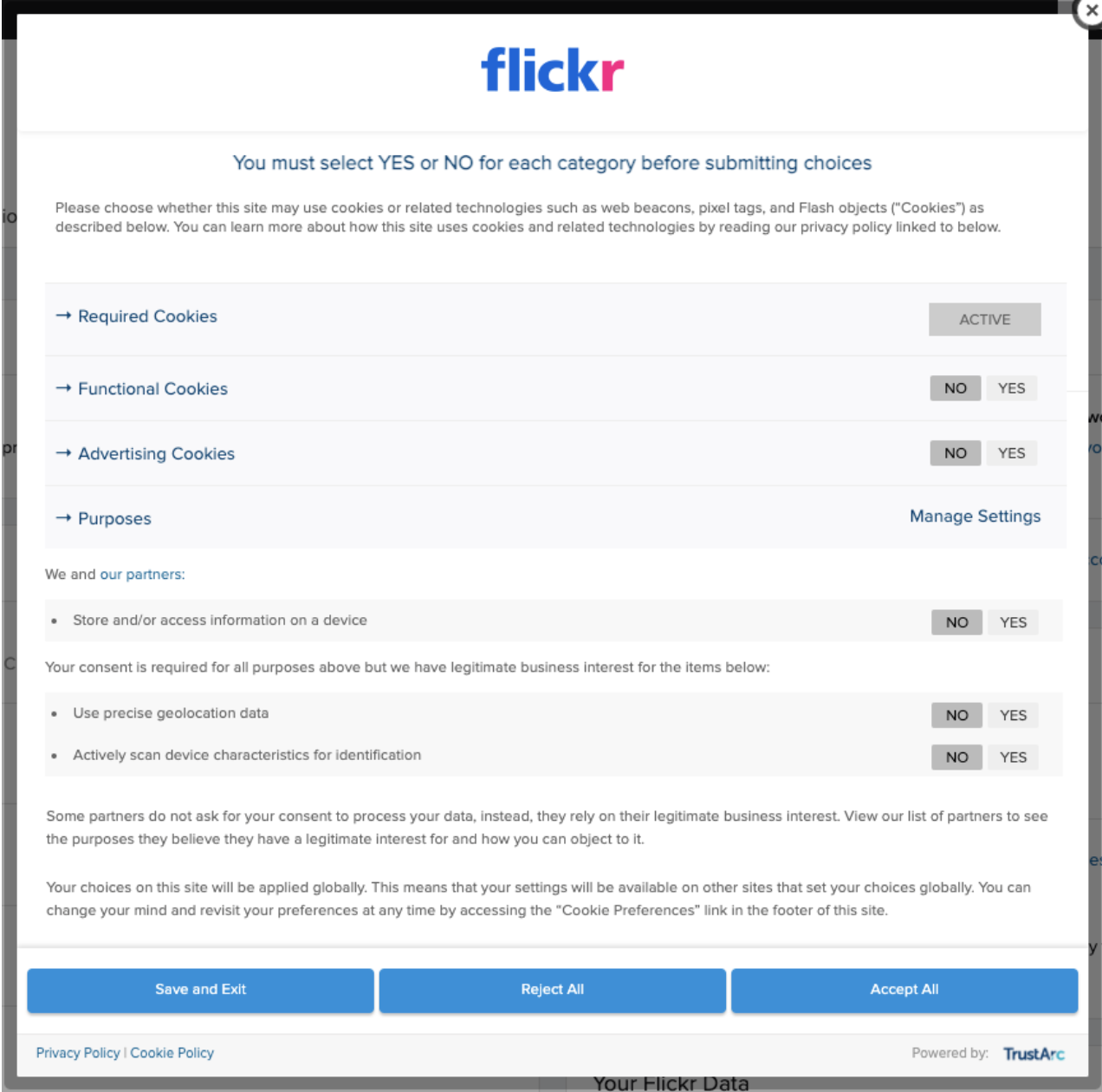 Flickr members in California and Nevada
This banner is compliant with regulations which are in effect in both California (CCPA) and Nevada. Flickr members in these states must agree to accept all or decline all cookies.

Reviewing your Cookie preferences or making changes
Click the "Cookies" link in our site footer to review your preferences.
Seeing cookie consent banner repeatedly after saving selections
We rely on cookies to understand if visitors have already accepted or rejected cookies on Flickr. If you're being prompted to accept or reject cookies every time you visit Flickr, please check that the browser you're using isn't set to clear all cookies after you end a session. If you manually clear cookies after a browser session and don't want to see this banner every time you visit Flickr, you will need to omit Flickr cookies when you take this action.